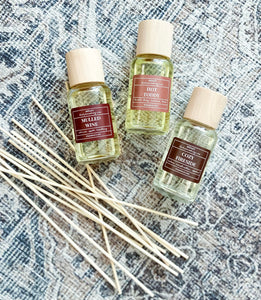 4oz Reed Diffuser
Cozy Fireside:  this reminds me of being warmed next to a crackling fire, with a hint of roasted chestnuts and the sweet smell of gooey marshmallows. A rich base of embers and oak to balance out the sweetness  
Ski Lodge: a blend of fresh ozone and glistening snow, with notes of warm saffron, cedar and vetiver. 
Hot Toddy: sweet honey and rich bourbon with a slightly spicy note of warm cinnamon. 
Mulled Wine: top notes of currant, merlot and apple. Aged with dark oak and amber. Tangy cranberry and the spicy finish of cinnamon and clove round out this scent. 
Gingerbread Latte: a blend of frothed cream, roasted coffee beans and warm sugared vanilla, blended with the sweet and slightly spicy aroma of gingerbread.
Pomelo + Prosecco: a sweet blend of apricot and Prosecco. With a burst of citrus and grapefruit.
Vanilla + Bourbon:  Top notes of fresh mahogany, blood orange, and red pepper with mid notes of Clary Sage Absolute and cognac on a base of bourbon vanilla, golden amber, tonka bean, and sandalwood.
Sage + Oakmoss:  fresh mahogany, oakmoss and sage. a very fresh green scent.
Sea Salt + Driftwood: notes of exotic salty sea air, dried coconut, night blooming jasmine, and vetiver. Followed by sun dried driftwood and the tanginess  of seaweed. 
Lavender + Coconut milk: soothing lavender on a background of warm coconut milk, with hints of white musk. 
Bonfire:  a beautiful blend of cedar, musk and chestnut. A very warm, sexy scent profile.
Bourbon + Leather: notes of sweet Bergamot, Cypress, Sandalwood, Bourbon and Leather
Dark Rum + Oak: notes of spicy Oak, Camphor, sweet Amber, Patchouli and sweet Dark Rum
Cognac + Tobacco: notes of spicy Cardamom, Tonka, sweet Cognac, Vanilla and a hint of Tobacco